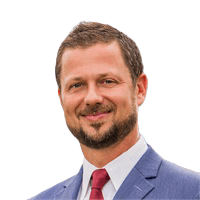 512.268.9220
ttaylor@e3wealth.com
Terry uses his experience and love of finance to help his clients create financial independence.
After college, Terry accepted a position with Enterprise Rent-A-Car in their intensive management training program. While Terry gained valuable experience and enjoyed his time at Enterprise, it didn't align with his ultimate goal of becoming an entrepreneur and making a profound difference in the lives of others.
In 2003, Terry left Enterprise and joined the financial services industry as an independent wealth and investment strategist. This move allowed Terry to achieve his goal of becoming an entrepreneur and better serve others by assisting them in pursuing their goals and dreams. Terry truly feels blessed that he is in a position that enables him to build lifelong, abundant relationships with his clients.
Terry graduated from Southwest Texas State University with a bachelor's degree in business management in 2002.
Terry holds multiple industry licenses and has been a qualifying member of the Million Dollar Round Table since 2010; he received a Court of the Table honor in 2011.* Terry is also a former co-host of the "Advance and Protect" radio show.
Terry was born in Austin, Texas, and currently resides in Kyle, Texas, with his wife, Ashley, and their two children, Hudson and Drew. Terry enjoys spending time with his family; he is very active in his community and is an avid sports enthusiast.
*The Million Dollar Round Table (MDRT) is an independent association. Membership is based on production and does not qualify a financial professional to provide investment recommendations or advice.