Get to know Larry Lyons, ChFC®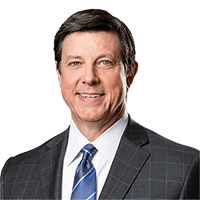 678.846.2895
llyons@e3wealth.com
Larry brings over 20 years of experience working as an investment advisor to help individuals and families with their financial future.  He enjoys coaching his clients on understanding their investment portfolios and formulating strategies to help them achieve their life goals.
Larry began his career as an insurance professional in 1989 with Guardian Life Insurance Co. before joining Principal Financial Group and moving to Houston, TX.  He and his family moved back to the Atlanta area from Houston, TX, in 2004, where he worked for a privately owned firm and oversaw the research of non-traded and private investments for retail and high-net-worth investors.
Generosity is something that Larry encourages his clients to consider in the planning process and the impact they can make in their community and local charities, in addition to legacy planning for their families.
Larry and his wife, Sabrina, have two adult sons who are successful in their careers.  They have embraced the RV "glamping" lifestyle as it is known to some today, which allows them to enjoy the outdoors while still feeling at home.  They enjoy hiking, fishing, and cooking something on his Big Green Egg!
Larry and Sabrina are members of First Redeemer Church in Cumming, GA, where he serves as a Deacon and Chairman of the Finance Committee.  He also teaches an adult bible study group.  Larry is passionate about helping others.  To that end, he is a supporter and board member of Whispering Hope, a women's resource and pregnancy center, and a supporter of Folds of Honor, which serves the families of fallen and disabled service members.