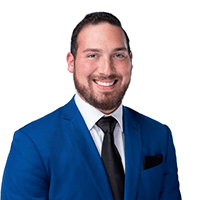 512.268.9220
jhuard@e3wealth.com
Josh has always had a strong passion for helping others in any way possible. When choosing a career, Josh felt that his passion combined with e3's powerful process and philosophy were a perfect union.
Due to the state of the federal budget and the possibility of rising taxes, Josh believes that it has never been more important to start saving early in life. His goal as a financial professional is to help his clients build a strong financial future.
Josh graduated from Texas Tech University and quickly joined the e3 Wealth team upon his return to the Austin area. He is currently working as a case design specialist with e3 Wealth. Having worked on well over 1,000 individual financial pictures, he is experienced and able to tackle any client challenge.
Josh has passed the Series 7 and 66 securities exams and currently holds his life and health insurance licenses. He has also been a recurring guest on the Advance and Protect Radio show, which aired in Austin on Sunday afternoons on 1370 AM KJCE.
Josh was born and raised in Austin, Texas. When not working, he spends his time outdoors with his dog, Dexter, playing league sports with his friends, trying all of Austin's new restaurants with his wife, Jessica, and enjoying a nice glass of whiskey from time to time.