Get to know Savannah Rodriguez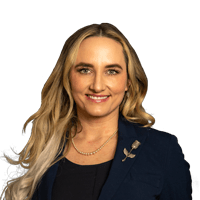 Chief Operating Officer | e3 Wealth Nashville
615.538.8447
srodriguez@e3wealth.com
Savannah prides herself in her work and supports the e3 Wealth Nashville client family in addition to the e3 Wealth Nashville team itself. She designs and orchestrates e3 Nashville's many educational events as well as client appreciation gatherings. You will also likely hear her on the phone, helping clients navigating questions and helping them get connected to the right e3 team member for answers.
The world of financial education is a fascination for Savannah. Growing up there was plenty of focus put on working hard for your money, but there was not much education on how to manage money once it's earned, and no mention at all on how to make your money work hard for you. Savannah uses her years of operations and logistics experience to support the team of e3 Wealth Nashville and loves sharing her gained knowledge with our client family. Her heart closely aligns her values with giving back to her community and helping others.
Come visit our e3 Wealth Nashville team page by clicking here.