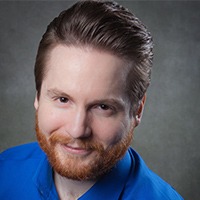 Andrew has been practicing comprehensive wealth planning since 2014. Growing up, Andrew was surrounded by a very loving family, but he also watched and experienced how lack of financial experience and knowledge can affect the well-being and livelihood of the people he loves. After watching his grandparents work late into their retirement years, Andrew set out to be a resource to those who need education and guidance when it comes to wealth management, retirement planning and wealth transitioning.
With a background in public speaking and training, Andrew takes an educational approach to his wealth management practice. He takes the complex and makes it simple, while striving to empower his clients with knowledge.
Andrew lives in Nashville, Tennessee, with his sweetheart, Savannah, and their adopted pooch, Whiskey. In his spare time, Andrew enjoys attending (and sometimes performing in) theater productions, writing and playing music, and practically anything on the water (canoeing, swimming and river tubing). Andrew and Savannah have a special place in their hearts for animals and often foster dogs and cats through a local program in Nashville.