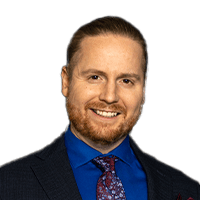 Private Wealth Advisor | CEO e3 Wealth Nashville
Andrew has been practicing comprehensive wealth planning for over a decade and takes an educational approach to his wealth management practice. He takes the complex and makes it simple by empowering his clients with knowledge. Investing and retirement planning can so often create fear and uncertainty in our lives but strengthening our personal financial knowledge and supporting it with a sound financial plan can eliminate fear, remove uncertainty, and even make the process enjoyable.
Andrew serves his client family across the country from Nashville Tennessee. He has appeared on Nashville's NBC affiliate station, WSMV Channel 4, on many occasions during their "Money Matters" segments and hosted Nashville's "The Clear Retirement Show" on 1510 WLAC News and Talk Radio through iHeart Radio from 2015-2020. More recently he was featured in Forbes where he discusses and navigates the importance of tax diversification in addition to asset diversification. Educating is one of the most rewarding parts of Andrew's career and he has proudly hosted more than one hundred financial education events and has been implemental in the education and planning of thousands of retirement plans.
Come visit our e3 Wealth Nashville team page by clicking here.